FOR IMMEDIATE RELEASE
---
July 11, 2008 -- We are happy to be hosting the Third Annual Jokara-Micheaux Film Festival again for 2008 along with our new host, the City of Camilla.
"Celebrating Film Southern Style" is what the Film Festival is all about and once again, a multitude of film industry related people will descend on Southwest Georgia to celebrate motion pictures and all that goes into the making of good, wholesome entertainment.
Many of the screenings, workshops and seminars will be held in the cities of Blakely, Colquitt and Camilla, Georgia and the Saturday evening Black-Tie Celebrity Dinner will be held again at the Jokara-Micheaux Production Studio in Colquitt, GA where the audience will be treated to a private screening of The Lena Baker Story, a full-length feature film shot entirely in Southwest Georgia. This studio was officially opened with a grand ribbon cutting two years ago. We are expecting an even bigger attendance than last year because of some additional programs, a host of celebrities and a unique and festive Block Party on Blakely's Court Square.
Today Blakely, Colquitt and Camilla are working together to bring many film industry businesses to the area. To date, we have a 22,000 square foot movie studio, equipped with Avid and Final Cut editing facilities, construction department, make-up and wardrobe trailer, actor's trailers and production offices. In Blakely, we have a complete wardrobe department, mobile-crew catering service and casting company. The key to this success has been a strong community partnership and an enthusiasm and belief that this part of Georgia is positioned for growth. The mission of the Jokara-Micheaux Film Festival continues to be to provide a venue for show business industry professionals and supporters to gather to appreciate the art of film-making as a medium that inspires, educates and contributes to a healthier society; and to stimulate the development of the film industry and associated businesses in Southwest Georgia.
This is the place to be on Labor Day weekend 2008. Whether you are a novice filmmaker, producer, director, writer, editor, actor, graphic artist, below-the-line or above-the-line production support, this festival is a great way to meet peers and showcase your work. And if you are an educator, student, movie watcher, television viewer, or just a festival lover, you will have a great time because of all the events that we have planned.
While you are here, look around and take in the full experience of the area and our wonderful communities.
The Third Annual Jokara-Micheaux Film Festival will be hosted by HennyPenny Video/Television Training Program, Laughing Crow 1 Entertainment, LLC, the City of Camilla, and the Southwest Georgia Film Commission.
Thank you in advance to everyone for helping us make this happen again.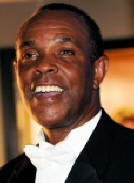 Ralph Wilcox
Ralph Wilcox,
Director of Southwest Georgia Film Commission
Founder of the Jokara-Micheaux Film Festival


Barton Rice
Barton Rice,
CEO/Executive Producer of Laughing Crow 1 Entertainment, LLC
Executive Director of Early County 2055
---
For More Information Contact:

Southwest Georgia Film Commission
263 Phillips Street, Colquitt, GA 39837
Tel: (229) 758-8833
FAX: (229) 758-8166
Internet: information@swgafilms.com